"The Magical Forest" has the intention to inspire and empower children to overcome their fears, transcend their own limitations, while discovering the magic in others and within themselves! Bring happiness, a sense of relief and experience life with freedom, adventure and wonder! It has the intention to uplift and raise children's consciousness and inspire them to know their potential and greatness!
"The Magical Forest" has been written for children all over the world. It speaks to their hearts with sentiment and truth. It inspires them to know themselves beyond what they may have already learned. This book inspires children to become more aware of their strength and inner knowing. The intention is to create a ripple effect, share it and love it. Give this book as a gift and share its message of self-discovery.
Read about the author

Music Production, Programming and Execution

Consulting and Executive Producer

"This inspiring book helps build self-esteem and confidence at an early age, as children grasp that everything they need to feel good about themselves comes from within."
The soundtrack to The Magical Forest book is an exciting and powerful piece for all ages to enjoy! The music accompanies the adventure and inspires reflection, discovery, wonder and celebration!
The music has been specially produced by:
6 time Grammy Award Winner
Production, Programming and Execution
&
Pepe Aguilar
9 time Grammy Award Winner
Consulting and Executive Producer for the theme music of The Magical Forest book
The audio book + theme song proceeds are 100% donated to children in need around the world.
Please visit GIVING
to learn more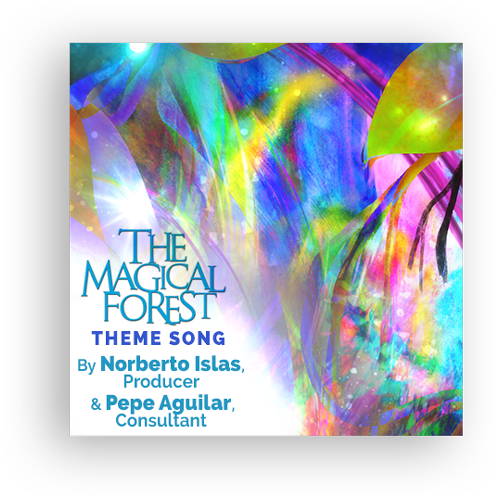 Every adventure reveals
new magical places
and brings new levels
of awareness.

An Enchanting Melody 
It is early morning and the rays of the sun appear through the trees. Wayta is ready for a new exploration day and adventure in the forest. He hears in the distance a melody, a soft and sweet voice humming a song.